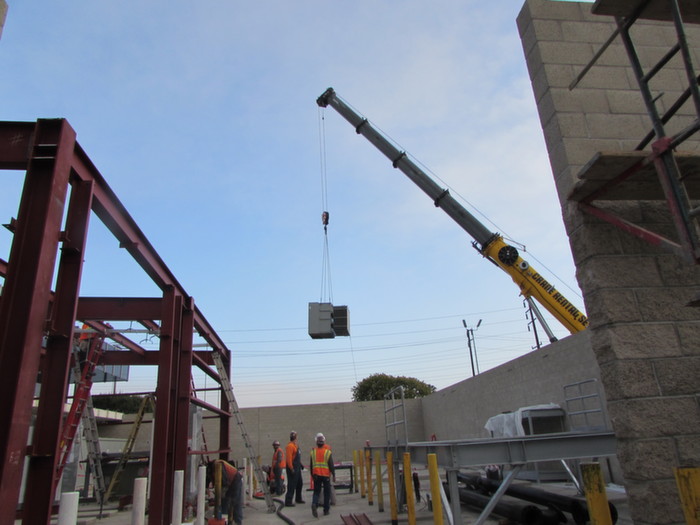 Location: Redondo Beach, CA
Client: Northrop Grumman
Cost: $2.2 Million
Scope of Work: Far West Contractors Corp was awarded Phase 1 and Phase 2 of the RS building re-roof and HVAC upgrade projects. Northrop Grumman's R5 building is a completely secured facility with critical labs and data centers. At no time can power or cooling be shut down, adding to the complexity of the project. Completing work under these constraints required provision of temporary cooling units and new power connections, ensuring no noticeable effect to the building systems during the seamless transfer to the new equipment. We installed four Temtrol VFD-controlled fan wall air handlers with a total combined CFM of 166,400 CFM on new raised mechanical platforms.
The air handlers were connected to the existing central plant chilled water system. A new Cleaver Brooks boiler was installed for water heating. Two new motor control centers were installed on new equipment platforms as an upgrade to their aging electrical distribution system. A new natural gas emergency power backup generator was installed to back up one of their critical labs. Besides the new HVAC equipment we removed the existing failing roofing system and installed 47,168 sq. ft. of new Tremco built up roofing. The entire project was completed on schedule without any disruption to the Northrop employees occupying the building.